Pasadena Now Magazine recently sat down with Dr. Wilcox to learn more about him including his background, approach to infertility and also his genuine passion for helping couples reach their dreams of becoming parents. Below is the complete article:
John Wilcox MD, FACOG is one of the doctors at HRC Fertility in Pasadena – formerly the Huntington Reproductive Center – who provide continuity of care to their patients, beginning with the first consultation and extending through graduation to their obstetrician.
Dr. Wilcox is a reproductive endocrinologist and has been with HRC Fertility since 1996 and is one of the senior physicians. He became a managing partner in 1998.
"The HRC at the time was a very small center here in Pasadena," Wilcox recalls. "They seemed to have a lot of innovative people that were very interested in research. There wasn't anything in my specialty that was being tried that we weren't evaluating in our center. Transfer rates were in the low 20s at the time. Last year, my partners were able to (achieve) 77 percent for transfer. So we've made some great strides. We've seen that small boutique clinic become the largest clinic in the United States."
Dr. Wilcox graduated medical school from University of Southern California, Los Angeles. He completed his residency in Obstetrics and Gynecology at USC's Los Angeles County Women's and Children's Hospital. Upon completing his fellowship training in 1996, Dr. Wilcox joined Huntington Reproductive Center.
Dr. Wilcox is double boarded in obstetrics and gynecology and reproductive endocrinology and infertility. He has received numerous awards including the IAHCP (International Association of Healthcare Professionals) Leading Physicians of the World Award, Top Docs Los Angeles Magazine, Top Docs Pasadena Magazine, America's Top Obstetricians and Gynecologists Awards, and resident teaching and research awards including the Searle Pharmaceutical Outstanding Teacher Award and the Ortho Pharmaceutical Uwe Goebelsmann, MD, Memorial Resident Research Award.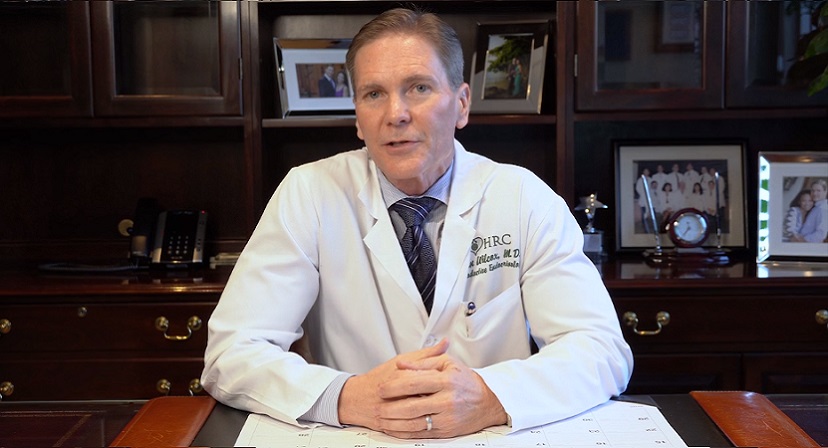 Dr. Wilcox is recognized for his meticulous approach and high pregnancy rates which is achieved with his customized treatment protocols, experienced team of nurses and embryologists and close partnerships with patients for successful outcomes.
"I believe in creating a close partnership with my patients by educating them so they have a solid understanding of treatment outcomes," he said. "I feel it is important to provide them with information to establish realistic expectations. My patients appreciate my candid approach by setting expectations using data and past experience accumulated over many years from genetic testing of embryos. Genetic testing of embryos has advanced our understanding dramatically."
About his career, Dr. Wilcox said he finds it "deeply satisfying" to help patients achieve their goals and dreams of having a baby and creating a family.
"It never gets old. This is the most satisfying career and the gratitude shown by patients continues to drive me to be my best," Wilcox said.
Dr. Wilcox is originally from the San Diego area. He took his undergraduate studies at UC San Diego.
In Pasadena, he maintains a large clinical practice, while teaching at USC's Keck School of Medicine as Assistant Clinical Professor.
"I've been lucky enough to have a very, a wonderful practice here in Pasadena, seeing patients from all over the world," he said.
He is married and has three children. When not in the office, Dr. Wilcox enjoys traveling, is a collector of French wines, and is a dedicated and disciplined fitness enthusiast.
Wilcox Fertility, 55 S. Lake Avenue, Suite 900, Pasadena CA. 91101, (626) 657-9327.