What Happens in the IVF Lab Post Egg Retrieval
When going through the in-vitro fertilization process (IVF), your eggs are retrieved and the next stage of your fertility journey will take place, only now, in a lab. Many are curious about what happens in an embryology lab and what the embryologists look for in developing embryos. The team at Wilcox Fertility aim to educate and empower patients with as much information as possible. Below is a glimpse into what happens following an egg retrieval.
After your egg retrieval, your eggs will be separated from the follicular fluid, washed, assessed for nuclear maturity and placed in low oxygen tension incubators. Within four hours post retrieval, egg(s) and sperm are combined, or in the case of Intracytoplasmic Sperm Injection (ICSI), a single sperm is injected into an egg. The embryologist will look for signs of fertilization fourteen to nineteen hours post fertilization. This includes looking for two pronuclei and the extrusion of the second polar body. Too many or too few pronuclei, will result in an abnormally fertilized embryo. All zygotes that exhibit proper development are transferred to a clean dish and cultured in a "continuous" medium that contains all the essential substrates and amino acids to support embryo growth and development to the blastocyst stage. Your embryos are cultured in low oxygen incubators (which mimics the natural environment) until day 5 of its life. We do not remove the embryos from the incubator during this period. We feel strongly about maintaining a "stress free" environment as much as possible for the developing embryos, thus eliminating the constant removal of the embryos from its incubator.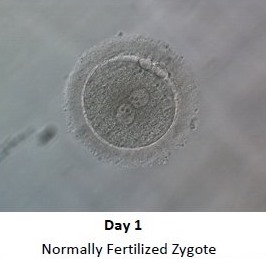 Day 5: The Blastocyst Stage and Transfer
On the fifth day, the embryo will hopefully reach the blastocyst stage. Not all embryos will reach this stage. This is one advantage to prolonged culture since the embryos themselves are self-selecting. In other words, embryos that arrest along the way are selected against. In general terms, the blastocyst is comprised of two parts, the trophectoderm (TE) which will ultimately give rise to the placenta and the inner cell mass (ICM) which is destined to be your baby. We need both components to achieve a successful pregnancy. Blastocysts offer another advantage as they can be used to genetically test the embryos. Today, we are removing approximately five cells (out of over 100 TE cells in a blastocyst) from the trophectoderm layer to be genetically analyzed. The ICM is not disturbed. In our practice, most blastocysts are vitrified (procedure of cryopreservation using a fast freeze process) after the embryo biopsy. By vitrifying the embryos, we allow the body to rest and we can transfer only euploid (normal) embryo in a subsequent, more "natural" cycle. Thus, by combining prolonged culture/blastocysts, with genetic testing and vitrification, we optimize your goal of having a baby.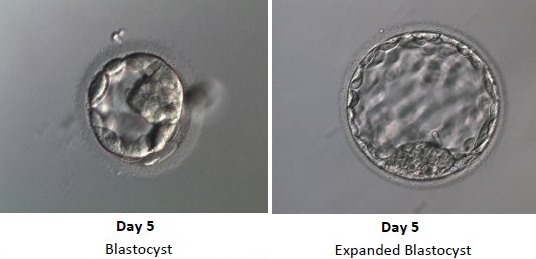 Undergoing any kind of fertility treatment can be emotionally and physically draining. That is why Wilcox Fertility believes the more you know about the procedure, the more comfortable and optimistic you will feel.
If you have any questions or concerns, we encourage you to continue and review other areas of our site and either contact us via our online form or simply call us at 626.657.9327. We look forward to helping you begin your journey.